Thai Massage Berlin
Looking for a Thai massage near you?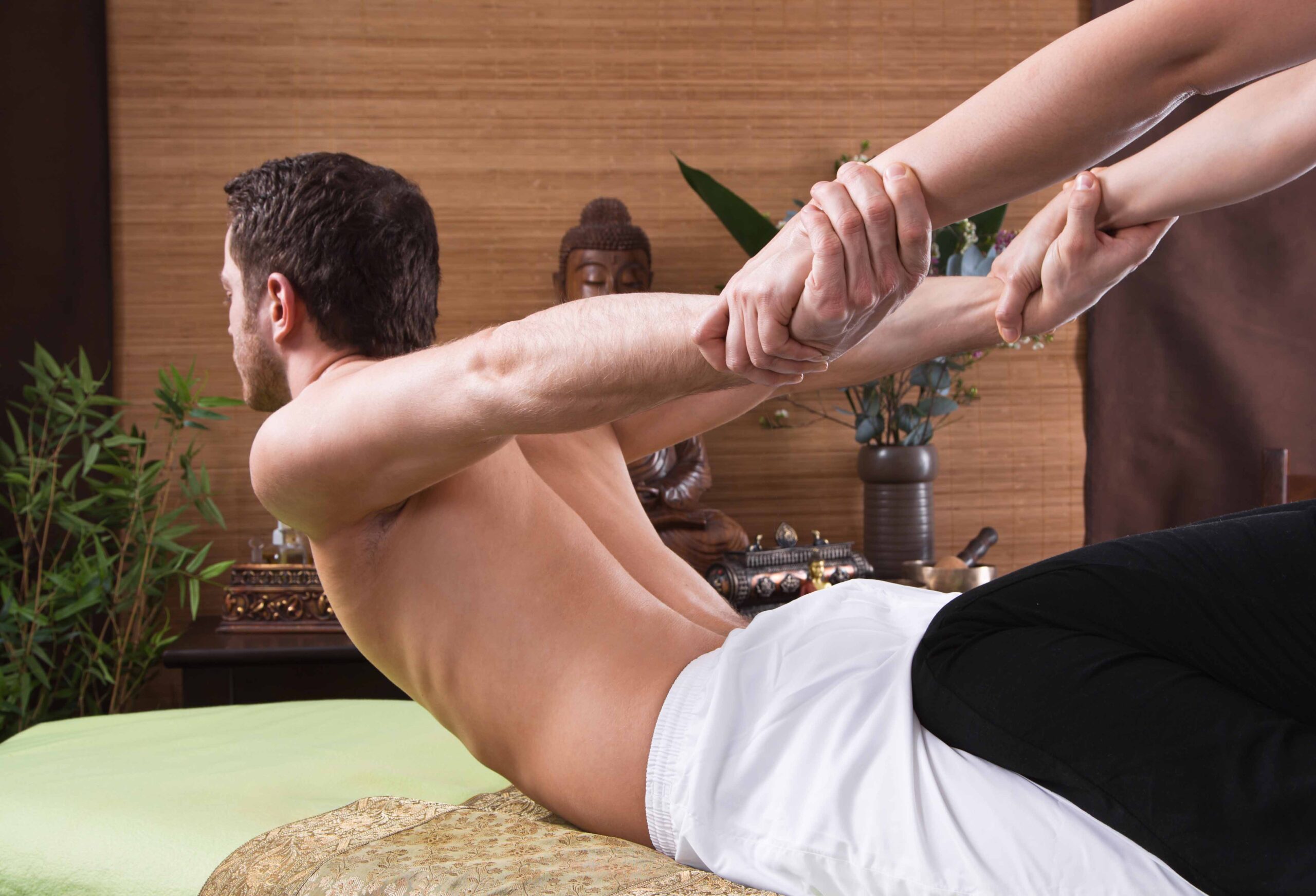 Based in Schöneberg Berlin, Northern Holistic specialises in Thai massage. A Thai massage is more than a typical massage. It's an ancient healing system that originated in Thailand and dates back to 2,500 to 7,000 years ago. Keep reading to learn more about what a Thai massage is and how it can change your life for the better.
The Thai massage costs €55 for 45 minutes, €70 for 60 minutes and €90 for 90 minutes. Book your Thai massage with Northern Holistic now:
1. What is a Thai massage?
Also known as yoga massage or ancient massage, Thai massage incorporates elements of yoga, massage, acupressure, and energy balancing. During the treatment, you'll lie on a floor mat or wide table, fully-clothed. Then, a therapist will slowly put you through a series of stretches that cover your entire body while respecting your physical limitations. Their focus will be to improve the flow of energy throughout your body.
2. What are the benefits of a Thai massage?
Boosts Energy
Since the techniques used in Thai massage are based on the energetic fields within the body, it can increase your physical and mental energy levels. It can give you the "pick-me-up" you need to lead the productive, fulfilling life you deserve. 
Reduces Stress
Excessive stress can take a serious toll on your overall health. Thai massage uses stretching techniques to relax your body and minimize stress. It may reduce the risk of stress-related illnesses like anxiety, depression, and heart disease. 
Stimulates Circulation
The gentle, yoga-like stretches in Thai massage promote circulation of blood to different parts of the body. Improved circulation promotes cell growth and a healthy heart. It also stimulates the somatosensory system, which is vital for good balance. 
Increases Flexibility
Due to the gradual and gentle stretches in Thai massage, you can enhance your flexibility, especially with repeated sessions. Greater flexibility allows for an improved range of motion and helps reduce excessive joint friction that can cause pain during movement. 
Relieves Headaches
Studies have proven that Thai massage can ease the symptoms of migraines or tension headaches. It reduces muscle tension, relieves muscle spasms, and releases shortened muscles. 
3. Is Thai massage suitable for you?
If you're looking for a way to alleviate stress and feel refreshed and rejuvenated from the inside out, a Thai massage is a great option. It's also ideal if you're coping with physical and mental fatigue or arthritis. If you're recovering from an injury, accident, open wound, or infectious skin ailment, we suggest you fully recover before undergoing a Thai massage as it may cause further damage. 
4. How we can help you
Our therapists will use their hands, knees, feet, and legs to move you into a series of gentle stretches. This rigorous yet relaxing technique may improve your blood circulation, flexibility, posture, muscle tone, and athletic performance. Rest assured we'll modify the intensity and pressure of the treatment to meet your unique needs.
5. Frequently Asked Questions
Is Thai massage safe?
Absolutely! The treatment plan we design will depend on the specific limitations of your body. We will perform a comprehensive intake before each session to ensure the techniques we use are safe for your unique body. 
Does Thai massage hurt?
Our therapists will make sure the massage is performed to match your comfort level. While some movements may feel a bit strange, you should never experience any pain. We encourage you to communicate with us should you experience any pain or discomfort.
How do I prepare for a Thai massage?
We ask that you arrive earlier than your scheduled appointment time, to fill out some paperwork. Also, dress in loose, comfortable clothing that is easy to move in. Avoid anything that is too tight or slippery. If you do need to eat before your session, make sure it's a light meal.
How Is Thai massage different from other types of massage?
In most massages, therapists use their hands and objects to manipulate and relax your muscles while you lie on a massage table with your clothes off. If you opt for a Thai massage, you'll lie on a mat on the floor with your coles on. 
What are the risks of Thai massage?
Just like any other massage, a Thai massage comes with a few risks. It may change your heart rate and injure the muscles if it's too rough. In most cases, however, a Thai massage is harmless and extremely beneficial. 
Book your Thai Massage Now at Northern Holistic Berlin