Pregnancy Massage Berlin
Looking for a Pregnancy massage near you?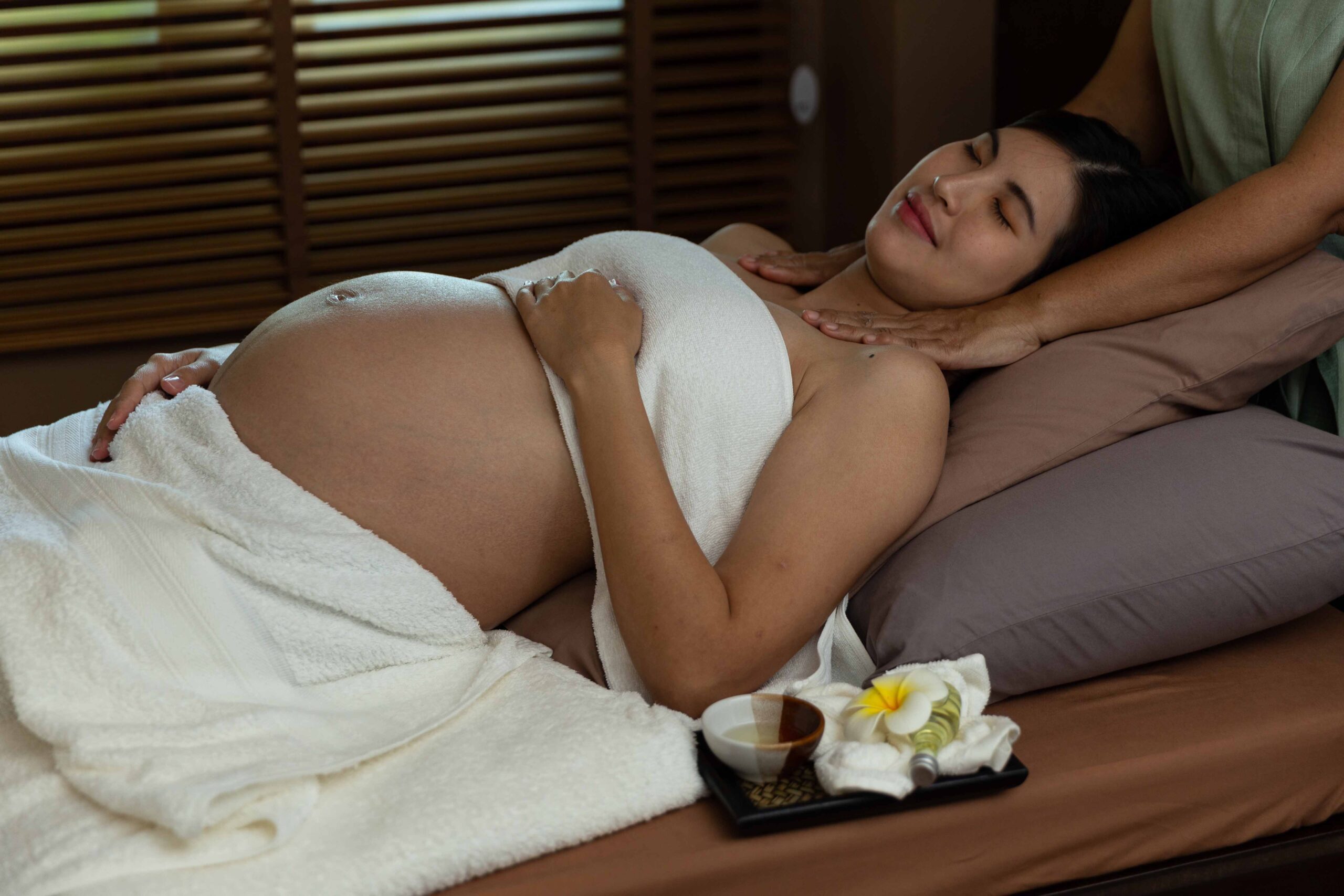 Based in Schöneberg Berlin, Northern Holistic specialises in Pregnancy massage. During the pregnancy massage, the massage techniques are modified in such a way that they are tailored to the special physical conditions during pregnancy. Pregnancy massage is effective in reducing tension and physical pain, water retention in legs and feet, and anxiety and stress. It also has a positive influence on the hormonal balance.
Read on to find out more.
The Pregnancy massage costs €45 for 30 minutes, €70 for 60 minutes and €95 for 90 minutes. Book your Pregnancy massage with Northern Holistic now:
1. What is Pregnancy massage?
Since the body of a pregnant woman changes anatomically, the treatment, including positioning, must also be adapted during the massage.
During a pregnancy massage, special massage techniques are used to alleviate the discomfort that can occur during pregnancy.
In order to tailor the treatment exactly to your needs, we take the time before the treatment to find out exactly what problems (if any) are currently bothering you.
2. What are the benefits of Pregnancy massage?
The pregnancy massage relieves pain and tension caused by changes in posture and stress.
It helps regulates hormone fluctuations and has a positive effect on hormone balance.
It stimulates the backflow of water retention in legs and feet.
It relieves headaches.
It reduces stress and anxiety.
It helps to improve sleep.
3. Is Relaxing massage suitable for you?
If you experience symptoms during pregnancy that make everyday life difficult or simply want to reduce stress, the pregnancy massage is the perfect holistic supplement to medical measures and treatments.
At Northern Holistic, we perform pregnancy massage from the 13th week of pregnancy (beginning of the 2nd trimester).
4. How we can help you
Our pregnancy massage aims to provide you with relief from discomfort that can arise during pregnancy.
It relieves tension and thus pain, promotes the drainage of water from the legs and feet and has a balancing effect on body and mind.
Since every body is different and therefore reacts differently to the changes during pregnancy, we put together a treatment that is individually tailored to your needs.
5. Frequently Asked Questions
Does the massage pose any risks for me or my child?
Although there is no scientific evidence that massage in early pregnancy has any negative effects, it should be done only between the 4th month to 13th month to be on the safe side.
If done correctly with precise, not too strong pressure, there is no additional risk for the pregnancy.
In which weeks of pregnancy can I go for a pregnancy massage?
At Northern Holistic we treat you from the 13th week of pregnancy.
When am I not allowed to go to the pregnancy massage?
Unless otherwise agreed with your doctor, you should not go for a pregnancy massage if you have the following conditions:
-Increased risk of thrombosis
-Diabetes
-Premature labor
-High-risk pregnancy
I heard that you shouldn't get a foot massage while pregnant. Is that correct?
No, a foot massage can have a very beneficial effect during pregnancy, relieving the joints and reducing swelling. There are some acupressure points or reflex zones that should not be worked on, but which a well-trained therapist knows.
How often should I go for pregnancy massage?
Since every body deals with pregnancy differently, there is no precise answer to this question. If your pregnancy is going well, it is enough to get a relaxing massage once a month, for example.
If problems arise during pregnancy, such as strong tension, etc., there is nothing to be said against a weekly treatment.
We will be happy to advise you on your first appointment as to how often you should come to see us.
Book your Pregnancy Massage Now at Northern Holistic Berlin